LIVE PERFORMANCE CLIP OF ALBUM STANDOUT "SICK AND TIRED" OUT NOW
HITS THE ROAD WITH WARREN ZEIDERS IN OCTOBER, CLOSES OUT 2022 WITH KOE WETZEL AND JELLY ROLL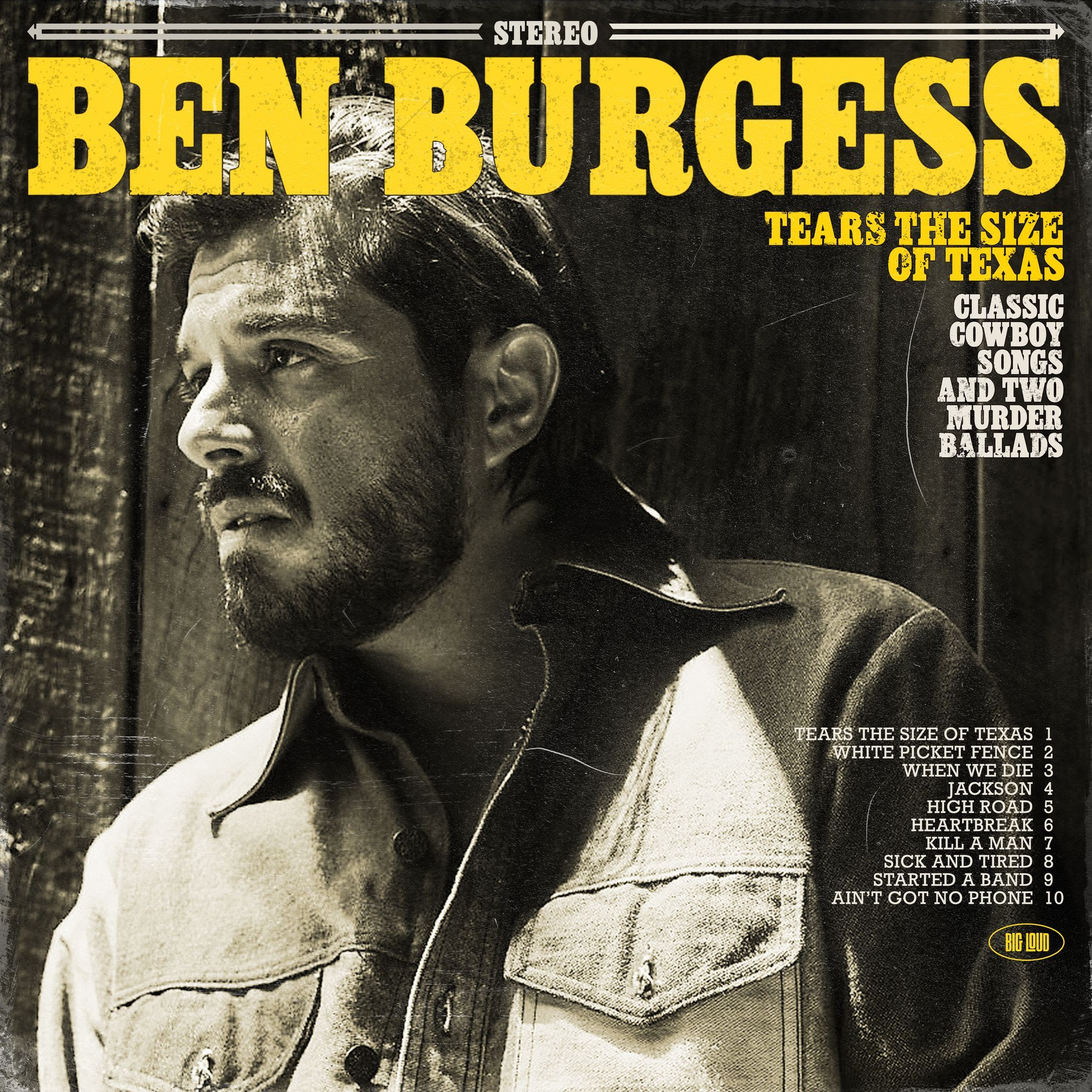 Tears the Size of Texas Album Art | Courtesy of Big Loud Records | Download Here
NASHVILLE, TENN. – Big Loud Records' Dallas-born bandit Ben Burgess has been waiting for this day for almost 15 years. His debut album, Tears the Size of Texas – eight classic cowboy songs and two murder ballads all co-penned by the award-winning artist/writer– is available everywhere today: long-awaited and right on time.
"This means everything to me. To have a project with my voice on it that represents me?" the rising star says with a twinkle in his eye. "That's a lifetime achievement. It's my life's work to make it here."
Modernizing traditional Texas twang for the next generation of listeners, Burgess' debut oozes with "a grimy believability; a mix of country, Western, rock, gospel and modernity, all rendered from a sly, worldly perspective" (Billboard).
Burgess fondly refers to his debut as a miniature "greatest hits" collection, a 10-song soundtrack co-written with top notch collaborators like Kevin Kadish, Jesse Frasure, Brandy Clark, Josh Kerr, Randy Montana, Ashley Gorley, and more, made up entirely of songs that were too risky, too original, for anyone else to sing.
Foundational advice from songwriting mentors like the Big Loud Shirt himself Craig Wiseman and Nashville mainstay Rhett Akins gave him the courage to bring these songs to life.
"The way that Craig writes and has taught me to write through watching him…I think about it in every session. And Rhett…Rhett told me, 'Write what you love. Eventually your wave will be the wave everyone's on.' They shaped me as a writer and now as an artist; I'm honored that they ever even believed in me, let alone that they've given me what they have creatively."
Critics are already buzzing about Burgess' first endeavor, highlighted in profiles by MusicRow, The Tennessean, Outsider, Everything Nash, and receiving the first five-star review of the year from Entertainment Focus' James Daykin, who calls it "an exceptional piece of work."
Early Praise for Tears the Size of Texas
"With the applause-worthy 'Tears the Size of Texas,' fans of superb songwriting have a new champion in Ben Burgess." – Country Central
"Honest. Melodic. It's full of dirt, grit and cowboy attitude and it feels like the type of album an artist might turn in three, or maybe even four albums down the line." – Entertainment Focus
"The album maintains an unapologetic, neo-traditional country sound many years in the making." – MusicRow
"Burgess is asking questions of a world that, if you read liner notes, you'd believe he was making spin with the touch of his pen." – The Tennessean
Fans can watch lyric video companions for album standouts "Started A Band," "White Picket Fence," and "High Road" today, alongside an energized performance video for "Sick And Tired" directed by Caleb Donato and shot in Nashville on Burgess' YouTube channel. Watch here.
This fall, the tumbleweed rolls down the road opening for Warren Zeiders' Up To No Good Tour throughout October, and joining fellow Texan Koe Wetzel and Jelly Roll for select dates of their Role Models Tour through the end of the year.
"I was raised to be the cowboy that rides away off into the sunset because I grew up with him. This album is as much for me as it is for him; it's for you, it's for the cowboy in all of us. I hope it means as much to you as it does to me."
CONNECT WITH BEN BURGESS
WEBSITE | FACEBOOK | TWITTER | INSTAGRAM | TIKTOK | YOUTUBE
Ben Burgess | Image by Chris Hornbuckle | Download Here